Firefighter Kelly Wong Memorial Fund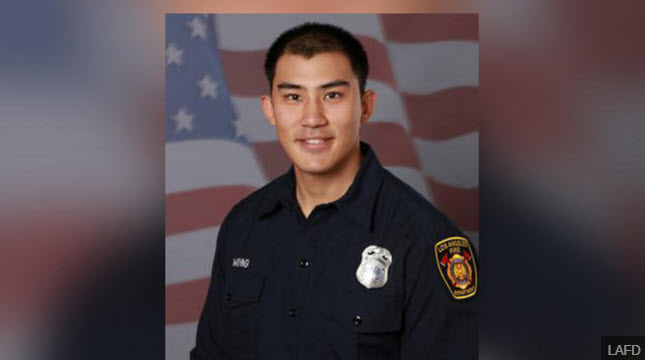 Remembering Firefighter Wong
Kelly was a hard working individual who was dedicated to learning his craft.  He was a loving father who frequently shared pictures of his baby Colton.  Kelly was always in the mix when it came to anything from cooking, training or doing work on the apparatus.  He is a brother that will truly be missed, but not forgotten.
About Firefighter Wong
Firefighter Wong graduated from the LAFD Recruit Academy on Terminal Island in August 2015, earning accolades as the top academic performer in his class.  He was a two year veteran of the LAFD and was assigned to Fire Station 92 in Rancho Park at the time of his passing.  Firefighter Wong is survived by his wife Danielle, his infant son Colton, his mother Ann, his mother-in-law and father-in-law Barbara and Michael Quinlan and his sisters-in-law Nicole and Stephanie.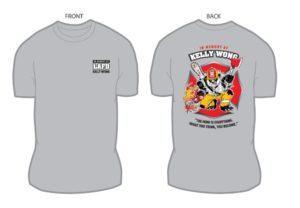 For LAFD fire stations that wish to order bulk Kelly Wong shirts, please grab THIS form, fill in sizes and counts and then email back to kwmf@fowla.org or fax to the number on the form.
The Friends of West L.A./FOWLA is a 501C(3) non-profit organization dedicated to supporting West L.A. schools, parks, libraries, police and firefighters. Our tax ID is 26-1693591.
100% of all contributions will be used to support Firefighter Wong's family.  FOWLA is covering credit card fees.
Checks can be made out to Friends of West L.A.  Please write "Kelly Wong Memorial Fund" in the memo.  Address:
Friends of West L.A.
Kelly Wong Memorial Fund
c/o Strumwasser & Woocher
10940 Wilshire Blvd
Suite 2000
Los Angeles, CA 90024
Let us know if you need a confirmation letter for the donation.  You can send email to KWMF@Fowla.Org.
Fowla received many messages to the Wong family along with contributions.  Several are shown below…
(Last names removed here, but full names provided to the family)
From KarenH: "I'm so sorry for your loss, Danielle. I'm here for you and your family always. Love you much."
CarolynP: "I love you so much friend"
KathleenH: "Deepest condolences to his family. The Station 92 firefighters are so great to our community, Kelly will be missed and his service was appreciated."
MichelleM: "Praying for his family."
DianaS: "My heart goes out to you Danielle and sweet Colton. I pray God's comfort surrounds you both. No words are sufficient right now, but love is extended to your precious family."
RickM: "I'm so sorry Danielle. 🙁 "
BradP: "Much love to you and your family Danielle!"
NicolaS: "I'm so sorry to hear the news about a promising life cut short. May his memory always be a blessing."
BrookeD: "We are heartbroken to hear about your loss."
BethW: "Love Leela, Lauren, and Beth and your whole Common Scentsers Oil Family."
ChandlerE: "Our deepest condolences to his family in their time of mourning. God bless."
ThomasW: "To the Wong Family my deepest sympathies. To put your life at risk for others, there is no greater honor."
DanaK: "I am so sorry for your loss. Prayers from Cypress, Texas."
JosephineG: "Dear Danielle. I don't have any words to say except that your husband has probably died doing what he loves most. We will include him in our prayers and please accept our sincere condolence. May he Rest In Peace with angels in heaven."
LesleyG: "Kel and I were housemates some years back. He was a special guy who was easy to get along with and dedicated to his work – he has earned all of the praise he's been receiving. My deepest condolences to Danielle and Ann."
DonnaS: "In memory of Firefighter Kelly Wong, condolences to his family."
JodiM: "Our son in law is a fellow firefighter that was honored to know Kelly. Our hearts and prayers go out to all family and friends."
MikeK: "Prayers and support to this family."
SarahK: "Love you Dani."
GeraldL: "Our thoughts and prayers are with you."
EricaB: "Our deepest condolences to the Wong Family – Clint & Erica"
JaeW: "My deepest condolences to his family. He was a fine young man and grateful to have spent time planting a tree with him last month. Peace and love, Jae"
JudithP: "We are so saddened by the loss of Firefighter Wong – WISE (Westwood Involvement Supports Education) on behalf of the Westwood Charter Community."
TraciY: "Our thoughts are with you and your family. Always know you have a strong support team in the Fire family. <3"
JackieH: "So saddened to hear of Kelly's passing. My thoughts and prayers are with the Wong family."
KarenW: "My heart goes out to the Wong Family. Kelly along with his LAFD brothers and sisters are very special people. The West Side is blessed to have these Firefighters keep us safe. I pray for the Wong Family and Station 59's. And the B shift. KarenW"
SusanC: "Prayers for the family and friends who loved him. He sounds like a wonderful human being. God bless."
ElyO: "We are sorry for your loss. We appreciate your bravery and selflessness and thank you all for your courage."
GraceT: "A hero in life, and guardian angel forevermore. Our deepest condolences to Firefighter Wong's families. – A community family."
DavidR: We live nearby the Rancho station. Have brought my kids to the station over the years. Everyone at the station was so welcoming. Fire fighters, policemen, teachers and the military are all heroes in my book. Our condolences to the Wong Family."
DanielL: "To the Family of Kelly Wong: Our hearts are heavy for your loss. A man like this can never die. He is up there in the stars."
BretO: "This donation was collected from the 54th Assembly District Central Committee Republican Party at our meeting last night. Our condolences go to the Wong Family and to Station 92. God Bless. Bret, Glen, Richard, Michele, Jay, Nikita, Keith, & Jim."
AnthonyH: "With deepest sympathy "
DavidL: "Our love and support to Danielle and Colton always. – Kelly and David (Drill Tower 14 – 02)"
DanielE: "With heavy hearts, our sincerest sympathies to Kelly Wong's wife, child and the entire LAFD. Respectfully, El Segundo Firefighters Association, Local 3682."
KathleenM: "We will miss you, brother!!"
JeremyS: "With much Love and very heavy heart from Fire Station 68's."